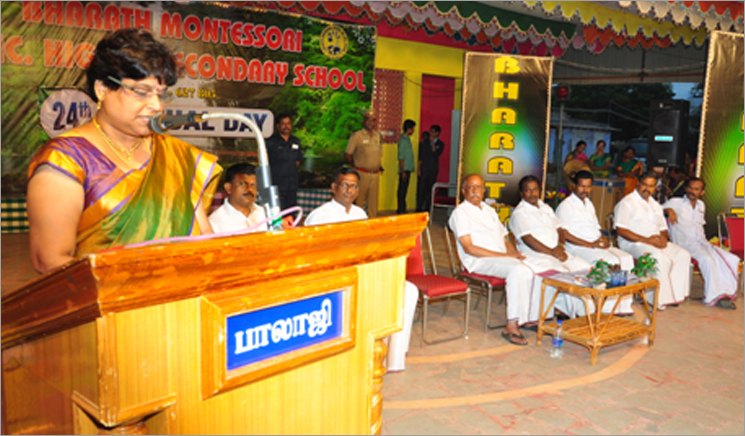 "God welcomes us with open arms and imparts to us blessing upon blessing - not because we are so good, simply because he loves us so much"
- such are the inspiring words of Sri Matha Amrithanandamayi.
Good Evening Everybody!
Great people are those who make others feel that they too, can become great. The members of Bharath family feel elated, blessed and honoured by the amicable presence of our distinguished Chief Guest Thiru. Raja P.Chendur Pandian Avl., Minister of Hindu Religious & Charitable Endowment, Tamil Nadu. I am highly privileged to evince my oneness welcome to our Honourable Minister on this remarkable day. I also extend my hearty welcome to our Guest Mr.Jayakkannu Avl., Chief Educational Officer, Tirunelveli on this great occasion. Indeed today is a great day of reminiscence where we have amicable people around us. My happiness redouble to present my Annual Report for the Academic Year 2012-'13.
Academics
'The quality of a person's life is in direct proportion to their commitment to excellence'. In recollecting the excellent performance of our XII Std students, this year E.G.Shunmugavalli bagged the I Place in the Revenue District of Tirunelveli with 1185/1200. She has joined Anna University, Chennai. T.V.Sri Parvathi bagged the II Place in the Revenue District of Tirunelveli with 1181/1200. She too has joined Anna University, Chennai. R.Goperunth Devi bagged the III Place in the Revenue District of Tirunelveli with 1180/1200. She has joined Medicine at Tirunelveli Medical College. All the three Ranks have been bagged by Bharath. To our pleasure there is an increase in the Centum Scorers. We have 1 Centum in Maths, 6 in Chemistry, 5 in Biology, 3 in Accountancy, 2 in Computer Science, 2 in Commerce & 1 in Business Mathematics. 103 students have scored above 1000 about 30 students have entered Medicine and Anna University.
Our kudos and appreciation to our X Public Winners is worth mentioning. Our Educational District Winners of X Std, M.J.Thanga Pathma scored 493/500, K.Akhil Manickam, A.Abdullah Harun Sohael, R.Sri Hari Vishnu & G.Anand scored 492/500 and G.Andal Amirthavarshini scored 491/500. We have 32 Centums in Maths, 16 in Science and 41 in Social Studies and 123 students scored above 450. At this juncture, my timely appreciation goes to my beloved teachers of X & XII Std, the students and parents too. I also take the privilege in thanking Ms.Geetha Kumari & Mr.Savarimuthu, the Organisers of X & XII Std.
It is well said, "You may forget with whom you laughed, but you should never forget with whom you shared". I extend my host of gratitude to our well wishers for their time reward, appreciation and encouragement to our students of Bharath. I thank Dr.Vijayagopalan, Chamba Clinic for his contribution to the Topper of X Public Exam with Shri.Narayana Memorial Cash Award of Rs.2500/-. I also thank Dr.Subramanian, Shiva Hospital, Tenkasi for his contribution of Rs.1005/- to the Hr. Sec. Topper. I also extend my alarming gratitude to our well-wisher Mr.R.M.V.Raman for his Best All Rounder Award in memory of his father Athoor Shri.Ramasamy Iyer. This year the 'All Rounder Award' has been bagged by R.Prasanna Sundar. With immense pleasure I thank Dr.Mrs.Kamala Selvaraj, Chennai for 'Gemini Ganesh Alamelu Award' in memory of her father Actor Gemini Ganesh & her mother Mrs.Alamelu to the X Topper every year by her magnanimous endowment of Rs.25,000/-. This year the Award goes to M.J.Thanga Pathma. As an added feather, I thank Mrs.Chandra Ramasubramanian, Madurai for her generous endowment of Rs.10,000/- to the Language Achievers of XII Std in memory of Shri.Ramasubramanian. A.M.Radhaa Priya has been awarded the Language Topper Award in English, E.G.Shunmugavalli & T.V.Sriparvathi in Tamil. An other 'Innovative Award' is also instituted by Mr.Sridhar, Managing Director, UNINOR, Dubai for the students of Bharath in the name of his parents with the Cash Award of Rs.10,000/- every year which will be effect from 2013-2014.
Awards & Rewards
We often remember the quote, 'There is a great distance between said and done'. But we say what we do and we do what we say by our strenuous work. Bharath bagged the 'Best School Award', 'Centum Result Achievers Award', 'Best Principal Topper Award' from NSE & Shakespeare Institute of English Studies for the 12th Consecutive year.
School Events
'Deeds are better things than words'. Winning Trophies and taking part in competitions round the World is indeed the energy tonic for Bharath. The Academic year began with the showers of Courtallam amidst Saaral Vizha Programme. Our children took an active part in Cultural Fete. Gomathi Nayagam won I Prize in Chess Tournament. P.Blessy Stejil took part in Wordsworth International Spelling Bee Contest and won National II Prize & International Level Award with a Cash Prize of Rs.3,000/-, 3gm Gold Coin, Laptop, Trophy, Gift Hampers & Certificate.
Einstein College of Engineering conducted Inter-School Contest for the students. Umitha Patel & Sarah Roberts won I Place in Pencil Sketch and English Elocution respectively. Our students took an active part in State Level Judo Contest. Deva Senapathy won State II Place with Gold Coin, Mahibalan & Mohamed Durai won State III Place with Silver Coin. The Civil Engineer's Association of Tenkasi conducted various contests for the school students. Our students won I Place in Music, Elocution & Dance. Visvesvaraya National Institute of Technology conducts Seminar for the school students. R.Vaira Praveena won I Place in the District Level and State II Place at Chennai. Junior Red Cross Society conducted Inter-School Contest. Our students won many prizes. Radio Mirchi & Pothys conducted Kiddi Fest State Level Inter-School Contest for the Kiddies. Bharath won the Overall Championship. The Viveka Cultural Education & Sports Development Trust conducted Southern District Level Roller Skating Contest. Bharath won the Overall Championship.
The Department of Forestry, Tamil Nadu conducted a variety of contests for the school students. Our students excelled in all the competitions and won the Overall Trophy. R.Keerthana & S.Divya won the Regional 'Ilanthiru Award' in Classical Dance & English Elocution. SCAD Engineering College, Cheranmahadevi conducted Inter-School Contest. Our school won the Championship Trophy. Our students never fail to take part in Science Mela. The students took part in Southern Science Drama Festival and won I Place in Madurai.
The Vikaasa School, Madurai conducted Youth Festival and Bharath won the Championship Trophy. 9 of our students won the National Roller Skating Championship. The Kamban Kazhagam, Rajapalayam conducted Contests in Music, Recitation, Elocution & Painting. 9 of our students won I Prize. The Educational Department of Tamil Nadu conducted Individual Talent Contest. H.Balasubramanian, M.Sajeevan & M.Sheik Ahamed won State II Place in Music, Quiz & Mono Acting respectively. S.Divya & S.Keerthana won State III Place in English Essay Writing & Classical Dance. Reflections 2012 was indeed a remarkable Inter-School Contest organised by Mahatma Schools, Madurai. Bharath won the Championship Trophy for the 7th Consecutive year.
I also feel elated to inform that M.Sajeevan won State I in Velammal State Level Talent Exam. Our students took an active part in Gandhi Kalai Mandram Contest and won I Place in Elocution. S.Keerthana won State III in Classical Dance. Sarah Roberts won II Place in English Elocution conducted by SIRC. Arnold Rajasekar won I Place in District Science Cultural Contest. Our students won I Prize in Painting Contest in Annai Martial Arts, Indian Pen Friends Association & Indian Red Cross Society.
The students of Bharath also won numerous Prizes in Inter-School Competition held at Kurinji Library, Melagaram and Vivekanda Kendra Competition. Bharath won the CROSA Junior Trophy in the Inter-School Contest held at Tuticorin. B.Gayathri won the State III Place in World Thirukkural Contest. Aravind Eye Hospital, Tirunelveli conducted Essay, Elocution & Quiz Contest for the students. Pavithra Lakshmi, S.Divya, R.Vaira Praveena & M.Sajeevan won prizes in the Contest.
Celebration
The fiery zeal towards laurels is a never ending tale of Bharath. We also never fail to celebrate all functions & festivals. Our 23rd Sports Day Celebration was honoured by Mr.Xavier Jothi Sargunam, District Sports Officer, Tirunelveli. We conduct Inter-School Competition under the Banner 'Pegasus'. Our 16th Pegasus was honoured by Mrs.Shanthakumari, Principal, T.D.T.A. Daniel Rajammal College of Education, Ilanji. Independence Day celebration was special with a unique Guest Mr.M.Abdul Karim, Sub-Divisional Engineer (Rtd.), Tenkasi. Our 23rd Annual Day function was honoured by Mr.R Ramamoorthy, I.R.S, Asst. Commissioner of Central Excise, Tirunelveli.
Today's youth ought to remember our great leaders, culture and rituals. Hence Bharath celebrates Kamarajar Birthday, Gandhi Jayanthi, Teachers' Day, Ramzan Celebration, Onam Festival, Bharathiyar Birthday, Children's Day, Christmas Celebration, Diwali & Pongal Festival and Dussera Celebration for 10 days.
New events, new things and new ideas are always part and parcel of Bharath. Hence to improvise the standard of Education, the Management brings in lofty developments in this Academic Year. Bharath Vidya Mandir, a CBSE School indeed a school with difference has emerged as a sibling School of Bharath Montessori from this Academic year from class KG – VI Std. Mrs.Vanitha is elevated as the Head Mistress of Bharath Vidya Mandir and Mrs.Usha Ramesh is promoted as the Principal of Bharath Montessori School and Mrs.M.Kanthimathi being the banyan support of the institution is elevated as the Senior Principal of the school.
Talent Awards
Our students excelled meritoriously in Talent Exams. Jeno Michael won the National I Place in National Scholarship Examination, Jeevadharshini won the State I Place in AAA Talent Exam, K.Kamal Kumar won the State I Place in Universal Talent Search Examination, Rithika Karthigesan won the State I Place in English Proficiency Test, S.Avishia Arul won the State I Place in Comprehension Test in English, J.Shusruth won the State I Place in Spoken English Test, M.Sajeevan won the State II Place in Unified Cyber Olympiad & Velammal Science Talent Exams.
The Management
The Management of the school very strongly believes that service to humanity is service to God. Hence the service rendered by Sri Appasamy Karayalar Charitable Trust is laudable and enormous. The Trust sponsors free education to the poor to the tune of 10 lakhs every year. Special sponsorship to the District Toppers & Rank Holders in Public Exams is given every year. The teachers who evince State Rank Holders & Centum Results are awarded every year. Apart from the field of Academics, the Trust also gives special services to the Public too.
Conclusion
To conclude I would like to take leave with the message of John Wooden.
"Be true to yourself, help others, make each day your masterpiece, make friendship a fine art, drink deeply from good books, build a shelter against a rainy day, give thanks for your blessings and pray for guidance every day ".
Yes, I thank my students, my teachers, my parents and my well-wishers and above all I thank the Almighty for He is the guiding anchor of Bharath.